Le Yu, MD
Director, Medical Student Teaching Program
Courses
The Department offers several elective clinical and research rotations for medical students.  For specific information or to schedule a rotation, please contact Jeanne at 626-0059 or via email at jeanneyordy@arizona.edu.
OPH-800 Research (Ophthalmology)
Director: Dr. Le Yu
Goals/Objectives: To provide the student with an opportunity to apply the basic principles and techniques of ophthalmologic investigation to research problems in the field of clinical ophthalmology. No previous research experience is necessary. 
Format: The type and focus of the research is determined by the student in conjunction with the supervising faculty advisor. It will be expected, however, that students will perform in-depth studies on some topic of ophthalmologic disease or research methods applicable to the field. 
Assessment Methods: The supervising faculty advisor will assess students on achievement of the goals and anticipated outcomes (e.g., papers, presentations, etc. as established at the start of the elective. The standard College of Medicine form for Faculty Assessment of Student Performance in Non-Patient Care Elective Courses will be used. No formal examination will be given.
Special Considerations: Prior to enrolling in a research elective, students must complete the associated "Independent Study/Research Elective Form." Independent study and research class requests must first be approved by the registrar; once approved the form will be shared with the Department Coordinator. Please contact Kris Slaney, registrar, if you have questions about enrollment. Must have approval from faculty member with whom you will be doing research.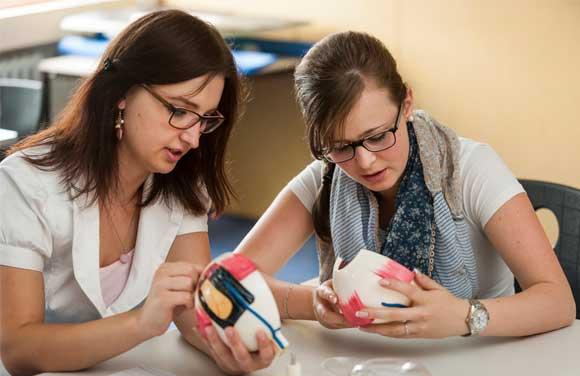 OPH-847 Ophthalmology 
Director: Dr. Le Yu
Goals/Objectives: Basic skills in ocular evaluation, understanding of the role of the ophthalmologist in eye care, referral utilizations and expertise, approaches to emergency care and ocular manifestations in systemic diseases. 
Format: Emphasis will be a familiarity with the normal eye and recognition of ocular disease through clinical observations. Students will be expected to attend clinics at AHSC, and/or the Southern Arizona Veterans' Administrative Hospital, to evaluate selected consultations, to present patients to attending faculty. In addition, the student will be asked to complete the elective evaluation form before a grade is issued.
Assessment Methods: Students will be evaluated on the basis of how well they accept responsibility to achieve the listed and/or self-stated goals and completion of a multiple choice examination at the end of the rotation. To be eligible for honors, students will be expected to give a high-quality presentation on a topic of their choice at grand rounds.
OPH-850A Ophthalmology Clinical Training
Director: Dr. Brian Hunter
Goals/Objectives: Ophthalmic physical diagnosis skills including the use of the slit lamp, applanation tonometer and direct ophthalmoscope, an introductory overview of diagnosis and treatment of common eye diseases, as well as the evaluation and treatment of ophthalmic emergencies.
Format: For the two week course, the student will undergo intensive introduction to anatomy, physiology and physical diagnosis. There will be emphasis on mastering the use for the basic ophthalmic equipment.
For the four week course, during the first two weeks of the elective period, the student will undergo intensive introduction to anatomy, physiology and physical diagnosis. For the remaining two weeks, the student will perform history and physical exams, develop a differential diagnosis and then make recommendations for treatment for a number of common ophthalmic problems. There will be extensive one-on-one time with the instructors. An introductory manual will be provided.
Evaluation Methods: The standard College of Medicine form for Faculty Assessment of Student Performance in Patient Care Elective Courses will be used.
Information for Medical Students Interested in an Ophthalmology Residency
Medical students considering ophthalmology as a career specialty are encouraged to participate in the clinical and research electives offered by this Department or the equivalent at another institution. Faculty evaluations based on direct contact through clinical work and research are important considerations in the resident selection process.
Since residency applications must be submitted by the end of September, clinical rotations should be completed prior to that time and research projects must be initiated well before then. Third year students who are serious about ophthalmology should consider an introductory 3-week rotation available as one of their general surgery elective options to gain experience and initiate projects prior to the beginning of the fourth year. Additional recommended electives during medical school include neurology, dermatology, neuroradiology, and anesthesiology. A post-graduate transition year is required before beginning a residency in ophthalmology and applicants should use this opportunity to obtain a broad-based foundation in general medicine.
Prospective applicants are encouraged to contact individual faculty members for information on specific clinical interests and research projects. Please contact Dr. Yu or Rosanna Canez for additional general information on electives. More detailed information on the residency program is available elsewhere on this site.
Recommended Resources and References