THE UNIVERSITY OF ARIZONA OPHTHALMOLOGY RESIDENCY PROGRAM FACT SHEET

OUR PROGRAM AT A GLANCE
Rotations with affiliate private practices in the subspecialties of cornea, refractive surgery, retina and oculoplastics.  This provides a valuable private practice perspective on how ophthalmology is approached outside of academics.
Our group has a longstanding history of a collaborative culture and comradery among residents.
Salaries for 2021-2022:  PGY-1 $59,411; PGY-2 $61,935; PGY-3 $65,166; PGY-4 $67,790
---
CURRICULUM
Organized Wet Labs

Internal - yearly cataract and refractive surgery wet labs held at the administrative building or in one of the local private practices.
External - a variety of industry and non-industry sponsored wet labs to further the development of phacoemulsification skills.
Dedicated Friday morning didactic sessions from 7:00 AM to 11:30 AM in which the residents have no scheduled duties.
Grand Rounds or QIPs held every Wednesday morning from 7:00 AM to 8:30 AM.
Numerous study aids are available, including a yearly program-paid subscription to OphthoQuestions, a program subscription to online BCSC books, and online access to over 50 ophthalmology textbooks.
Review Courses

PGY-4 residents may attend an instructional review course at the San Antonio Ophthalmology Course in spring, shortly before the Ophthalmic Knowledge Assessment Program (OKAP) exam.  
PGY-3 residents may attend the UCLA Stein/Doheny Comprehensive Ophthalmology Review Course in spring.
The senior residents organize an in-house OKAP review courses yearly.  Faculty are invited to present.  The residents have dedicated time during working hours to attend these sessions.

Senior residents are provided up to $850 to attend the annual meeting of the American Academy of Ophthalmology.
Multiple institutionally funded Well-Being events are held every year. Here Banner provides $50 per employed physician that attends the function. The events may include one alcoholic beverage per resident and may involve non-Banner Employees such as faculty, family and friends.
Travel funds are available for presentations at national meetings if the resident is the primary author and a faculty member sponsors the project.
Call Requirements:  One in 8 days averaged for primary call during the first and second years and 1 in 4 days averaged for second (back-up) call during the senior year.   A meal card for Banner hospitals is available for call.
Residency Curriculum by Year

PGY-1:  We are excited to begin the integrated PGY-1 year.  It occurs predominantly at the Southern Arizona Veterans Affairs Health Care System, which is one of our most popular sites and the highest impact for learning.   We have constructed a curriculum that will provide the resident with a non-ophthalmic perspective of diseases commonly managed by ophthalmologists.  Each resident will rotate for 3 months in ophthalmology, 2 months in emergency medicine, 2 months in internal medicine, 2 months in general surgery, 1 month in neuroradiology, 1 month in rheumatology and 1 month in neurology.  
PGY-2: The PGY-2 starts with buddy call shadowing the more senior residents for the first 1-2 months.  Also, during the first few weeks, dedicated time is devoted towards learning the basics.  Most of the clinical time is at the main Alvernon site assisting with patients in the faculty clinic and running the resident clinics with faculty oversight.  General ophthalmology, cornea, glaucoma, neuro-ophthalmology, pediatrics, and retina clinics are attended.  Two months are served on the consults service, which is staffed by Dr. Tredici, the ophthalmic hospitalist.  Greater than 90% of the consults service is at Banner University Medical Center-Tucson Campus.  An average of 1 night in 8 is required for first call.  Each resident averages 3 grand rounds presentations per year, with more occurring the first year and progressively fewer in the last two years.   Dedicated didactic sessions are held every Friday morning from 7:00 AM to 11:30 AM at the Alvernon administrative building.  Continuity clinics at the SAVAHCS occur all three years.  Additionally, oculoplastics and retina rotations at the SAVAHCS are part of the first year program.   Finally, the residents spend time with a private cataract and refractive practice where they gain exposure to keratorefractive surgery and world-renowned cataract surgeons. 
PGY-3:  During PGY-3, residents spend time in cornea, oculoplastics, and retina private practices.  These are close to the main Alvernon clinic and highly regarded by the residents.  The PGY-3 residents may attend an ophthalmology review course prior to the OKAP test.   They often choose to attend a number of internal and external cataract courses during this year, as well (suspended during the COVID-19 pandemic).  
PGY-4:  Nine months of the senior year occurs at the SAVAHCS where they run general, cornea, glaucoma and retina clinics with faculty oversight.  During the remaining three months, they serve as the Chief resident where they have administrative time, as well as participating in general, glaucoma, and resident clinics at the Alvernon outpatient clinic.  The chief works closely with the program coordinator to manage the duties of their co-residents.  We find this an invaluable tool in learning leadership and management of human capital.  The majority of the cataract surgery is obtained at SAVAHCS during this year.  The SAVAHCS provides toric and multifocal lenses to appropriate patients free of charge.  This allows residents a robust exposure to managing these premium IOLs. The same is true for iStents, and this allows residents to become certified for this procedure during residency.  The seniors are encouraged to attend the annual AAO meeting, and funds are available to assist with this important learning opportunity. 
Surgical Numbers for Graduating Seniors from 2017-2021
---
FACILITIES
The Southern Arizona Veterans Administration Health Care System (SAVAHCS) is the jewel in our crown.  It is a 295-bed hospital that is two miles from BUMC-South and 13 miles from BUMC-Tucson. That translates into a 20- to 30-minute commute from BUMC-Tucson and a 5-minute drive from BUMC-South.  It serves ~170,000 veterans and is unlike any other Veterans facility.   It provides specialists in cornea, glaucoma, neuro-ophthalmology, oculoplastics, and retina.  SAVAHCS ophthalmology boasts state-of-the-art equipment in both the clinic and operating rooms. 

Average of over 200 cataract surgeries per resident as primary surgeon. Torics and multifocal IOLs at no additional cost to the patient.
Glaucoma exposure to trabeculectomies, tube shunts and MIGS procedures.
Cornucopia of oculoplastics experience under the supervision of a seasoned ASOPRS-trained surgeon.
Intravitreal injections, PRP and retinal experience well beyond the minimum requirements.

Banner University Medical Centers

In 2017, BUMC-Tucson added a new 9-story tower with an additional 200 beds and 19 operating rooms.  Currently, there are a total of 479 beds.  The majority of call occurs at this hospital.  It has the only level 1 trauma center in the region. 
Banner UMC-South is a 220-bed hospital with a level 2 trauma center and is located 2 miles from the SAVAHCS and 13 miles from BUMC-Tucson.
There are dedicated resident lounges at the Banner University Medical Center (BUMC) -Tucson and South Campus locations.  The South Campus lounge is furnished with food, drink and a workout room. 

The Alvernon outpatient facility (707 N Alvernon) is the clinical heart of the practice with over 20 exam rooms.  It was completely renovated in 2019 and occupies the entire 3rd floor of the building. 
A 2-suite ambulatory surgical center will be opening in 2021.  It is immediately across the street from the Alvernon outpatient facility.  It will be predominantly used for outpatient ophthalmology procedures.
The 655 N Alvernon administrative offices are conveniently located next to the Alvernon outpatient facility.

There is a dedicated resident area with a ping pong table, computers, printer, projector, study areas, study carrels, lockers, and mailboxes.  A lactation/resting room, meeting rooms, and kitchen with refrigerator and microwave are available adjacent to the resident area.
In the administrative office is a well-equipped wet lab and includes a Centurion phaco machine, a Wild operating microscope, 3 cataract surgery simulation systems and 24/7 access.  The residents have the ability to practice anterior vitrectomy, sutured IOLs, small pupil surgery, pupilloplasty, iris dialysis repair, capsular tension ring insertion, i-stents, Kahook Dual Blade goniotomy and other MIGS procedures.  There are also clinical tools for simulation of Yag capsulotomy, SLT and LPI.  We recently added simulations for lateral canthotomy/cantholysis, basic skin suturing and lid margin laceration repair.
There is a dedicated lecture area in the administrative office, and two shared conference rooms in the building. 

There is free parking at all facilities.
---
TUCSON AND SURROUNDING AREA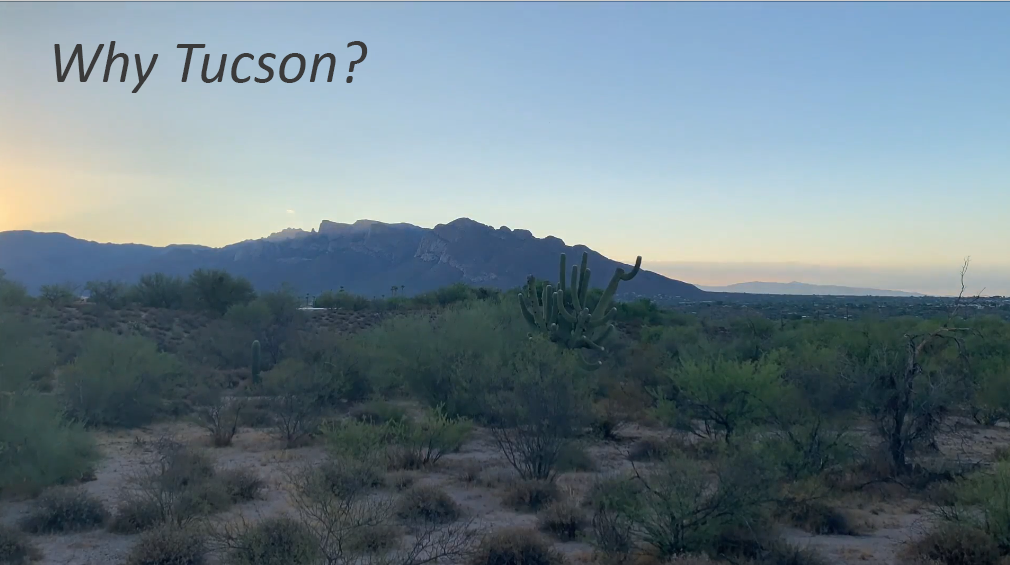 Click here to view this video.
The Tucson cost of living is 8% below the national average.  Food, gas, electric and natural gas prices are relatively low. 
Low level of traffic relative to major metropolitan regions.
Housing:  Median home price $186,000 in 2020.  Average rental price of 1-bedroom apartment $720/month and 2-bedroom apartment in Tucson $965/month.
The 2020 population of Tucson and the immediate surrounding area was 982,000 people.
Trails

Bike Trails: The Loop Trail is a recently completed circuit of 131 miles of connected, paved, multipurpose trails traversing the city and running along the scenic desert and dry river beds.  
Road bike lanes are prolific in Tucson, which is one of the most bike friendly towns in the US.
Mountain biking and horseback riding trails are plentiful in Tucson and the surrounding region.
Hiking Trails: There are 114 moderate trails in Tucson ranging from 0.7 to 59.4 miles and from 2,214 to 9,107 feet above sea level.  Additionally, there are many easy and difficult trails.

Climate

Temperature 
Summer average - daily high/low - mid 70s to 100
Winter average - daily high/low - low 40s to low 70s 
Relatively low winds throughout the year
Humidity - mid teens to high 30% with average yearly of 29.2%
Sunny - average of 220 days with <20% cloud cover per day

Downtown: There is a growing nightlife, well-positioned light rail service and a city commitment to continued revitalization of the historic downtown region.
Food:  In 2015, Tucson was named the first City of Gastronomy by the United Nations Educational, Scientific and Cultural Organization for the variety and quality of culinary options.
Local/Nearby Attractions

The Arizona-Sonora Desert Museum is a world-renowned zoo, natural history museum and botanical garden, all in one place.  The museum is located on the west side of Tucson, near Saguaro National Park West and Tucson Mountain Park.
The Titan Missile Museum is one of the few remaining cold war missile silos in the US.  It is open for touring and a historic look back into the cold war. 
Pima Air and Space Museum features over 350 historical aircraft, from a Wright Flyer to a 787 Dreamliner. It sits on 80 acres and is affiliated with the Davis-Monthan Air force base.
Mount Lemmon is a 30-minute drive from the base to the top of the 9,157' mountaintop where the temperature is ~30 degrees cooler.  Mount Lemmon boasts a ski slope, many hiking trails, camping and fishing. 
Fifty-six miles southwest of Tucson, one may tour the Kitt Peak National Observatory which houses over 20 optical and 2 radio telescopes.  It is one of the largest gatherings of astronomical instruments in the northern hemisphere.

Regional Attractions

5 hours from the Grand Canyon National Park
4 hours from popular ski resorts (Sunrise, Arizona Snowbowl, Mount Lemmon)
8 hours from San Diego
10 national parks and 4 state parks in Arizona

Tucson International Airport

Parking - offsite $3/day, onsite $9/day
Minimal lines
Southwest Airltines direct flights to many destination cities
Phoenix International Airport may be a cheaper alternative

Educational Resources

Home of the University of Arizona
Two high schools repeatedly rated as top 20 in the nation
Elementary schools and junior high magnet schools rated among the Nation's top as well

University of Arizona

46,000 students, which includes undergraduates, graduates, medical students
Numerous museums, cultural events
University of Arizona Centennial Hall hosts eight Broadway productions per year.  There are also several local theater groups across Tucson. 

Sports:  Wildcats PAC-12 sports include basketball, football, swimming, gymnastics, volleyball, softball, baseball and others.  Additionally, the Tucson Roadrunners are a new member of the American Hockey League. Also, Phoenix is home to the Arizona Diamondbacks baseball and the Arizona Cardinals football teams.
 
---
FACULTY
Core Faculty
Jonathan M. Holmes, MD
Professor and Chairman
Adult Strabismus
Todd W. Altenbernd, MD
Associate Professor, Program Director
Glaucoma
Salwa Aziz, MD
Clinical Assistant Professor
Glaucoma
Rita Bhakta, OD
Clinical Assistant Professor
Pediatric Optometry
Jillian Wang Colson, MD
Clinical Assistant Professor
General Ophthalmology
Joseph M. Miller, MD, MPH
Professor of Ophthalmology, Optical Sciences, Public Health
Adult Strabismus
Jordana Smith, MD
Associate Professor, Vice Chairman
Pediatric Ophthalmology
Patrick Tsai, MD, MHA
Clinical Assistant Professor
Glaucoma
Dan Twelker, OD, PhD
Professor
Optometry
Ovette Villavicencio, MD, PhD
Clinical Assistant Professor
Cornea
Mingwu Wang, MD, PhD
Clinical Associate Professor
Cornea and External Diseases
Le Yu, MD
Assistant Professor
General Ophthalmology
Southern Arizona Veterans Administration Health Care System Faculty
Robert Lindberg, DO
Clincial Assistant Professor
Chief of Surgery, Chief of Ophthalmology
Shivi Agrawal, MD
Clinical Assistant Professor
Cornea and External Diseases
Michael  W. Belin, MD
Clinical Professor
Cornea and External Diseases
Jillian Wang Colson, MD
Clinical Assistant Professor
General Ophthalmology
Robert Dryden, MD
Clinical Professor
Oculoplastics
Thiripurasundari Pughazhendi, MBBS
Clinical Assistant Professor
Glaucoma
Tanu Thomas, MD
Clinical Assistant Professo
Retina and Vitreous
Ovette Villavicencio, MD, PhD
Clinical Assistant Professor
Cornea
Affiliates/Associates
Brock Bakewell, MD
Cornea and Anterior Segment
Fishkind, Bakewell, Maltzman, Hunter & Associates Eye Care and Surgery Center
Lansing Brown, MD
Clinical Lecturer
Banner University Medical Center-Tucson
Diego Calonje, MD
Surgical Retina/Vitreous
Banner University Medical Center-Tucson
Harry Carrozza, MD
Medical Ophthalmology
Banner University Medical Center-Tucson
Robert M. Dryden, MD
Ophthalmic Plastic and Reconstructive Surgery
Southern Arizona VA Health Care System
Kathleen Duerksen, MD, FACS
Ophthalmic Plastic and Reconstructive Surgery
Robert Fintelmann, MD, FACS
Cornea, Cataract, Refractive Surgery
Midwestern University, Phoenix
William Fishkind, MD
Medical Ophthalmology
Fishkind, Bakewell, Maltzman, Hunter & Associates Eye Care and Surgery Center
April Harris, MD
Surgical Retina/Vitreous
Retina Associates Southwest
Brian Hunter, MD
Comprehensive Ophthalmology
Fishkind, Bakewell, Maltzman, Hunter & Associates Eye Care and Surgery Center
Cameron Javid, MD
Surgical Retina/Vitreous
Retina Associates Southwest
Lisa Lane, MD
Comprehensive Ophthalmology
Arizona Eye Consultants
Southern Arizona VA Health Care System
Mikel Lo, MD
Ophthalmic Plastic and Reconstructive Surgery
About Faces Cosmetic Surgery
Jeff Maltzman, MD
Glaucoma
Fishkind, Bakewell, Maltzman, Hunter & Associates Eye Care and Surgery Center
Ann McColgin, MD
Cornea and External Disease
Cornea Associates
Lynn Polonski, MD
Ophthalmic Plastic and Reconstructive Surgery
Catalina Eye Care
Banner University Medical Center-Tucson
Maria Ramirez, MD
International Ophthalmology
Oftalmologos Asociados
Nogales, Sonora, Mexico
Egbert Saavedra, MD
Surgical Retina/Vitreous
Retina Associates Southwest
William Stevenson, MD
Surgical Retina/Vitreous
Retina Associates Southwest
Patrick Tsai, MD, MHA
Glaucoma
Catalina Eye Care
Banner University Medical Center-Tucson
Ovette Villavicencio, MD, PhD
Cornea
Catalina Eye Care
Southern Arizona VA Health Care System
Banner University Medical Center-Tucson
Mark Walsh, MD, PhD
Surgical Retina/Vitreous
Retina Associates Southwest
Mingwu Wang, MD, PhD
Cornea and External Diseases
Cornea Associates
---